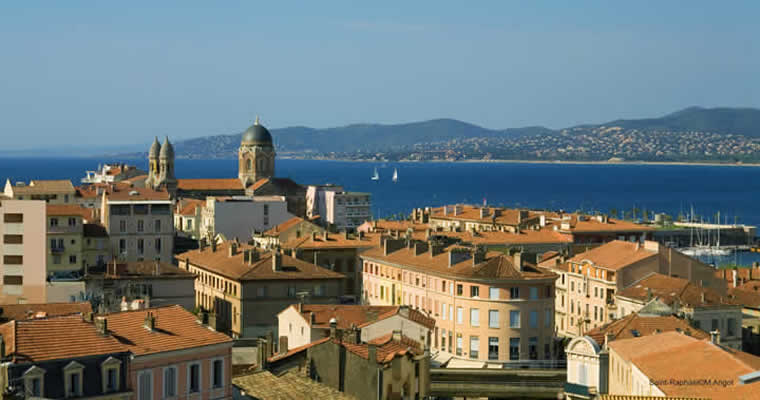 Saint-Raphaël centre and the old town
The narrow shaded streets of the old city were once home to Saint-Raphaël's farmers.
Nowadays, this neighborhood hosts a daily covered outdoor market with flower, vegetable and fruit stands and local delicacies.
A little further on, there is the Romanesque church. Built in the 7th century, it is a protected monument. Its presbytery houses the Archeological Museum, and at 22 m, its 6th-century watchtower offers a splendid panorama.
The "Quartier de la Marine", a former fishermen's enclave, gradually became a seaside resort. With the arrival of a Casino and luxurious villas, the centre became a lively destination for pleasure seekers.
Points of interest:

Notre Dame de la Victoire basilica: Built by Pierre Aublé between 1882 and 1889, the basilica is representative of the Roman Byzantine style, which was popular during this period.
The Archaeological Museum: It houses treasures from our local maritime and historical heritage dating back from prehistoric times through the Roman Empire era. New in 2013: Virtual tour of the museum.
"Promenade des Bains": This promenade was built between 1880 and 1882 under the name "Terrasse des Bains". It marks the true beginning of tourism in Saint-Raphaël.
The "Jardin Bonaparte": Overlooking the port, the 20,000 m2 garden features a wonderful playground for children and an open area for outdoor concerts and shows.