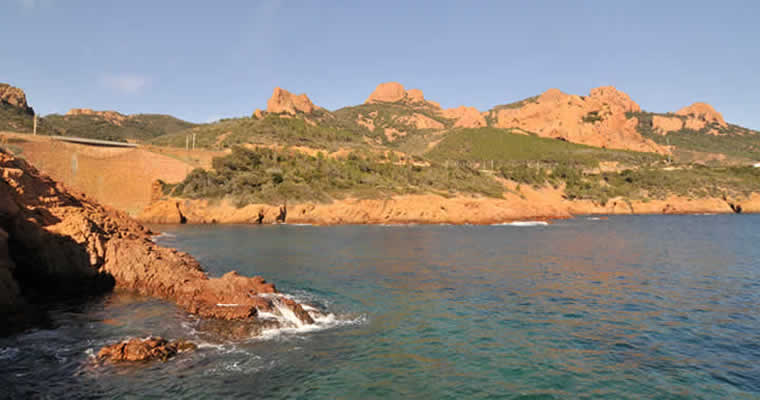 La Corniche d'Or and Anthéor Coves
La Corniche d'Or is the road connecting Saint-Raphaël to Cannes. It was opened in 1903 under the initiative of the "Touring Club of France". It is bordered by the most pristine waters in the region.
A BIT OF HISTORY
Even though the coastal road connecting the "Var" region to the "Alpes Maritime" region was completed in 1903, it had been used by the Romans 2000 years earlier and was then called "Via Aurelia". However, it was soon abandoned by the Romans because it was attacked regularly from the North and West by Barbarians.

At the beginning of the 20th century, a new road was built with the advent of tourism and the booming automobile industry. Because of the business opportunities it presented, the regional authorities encouraged the "Touring Club of France" to be part of the project. It would soon also involve many local residents.
Success was immediate: it became possible to drive round-trip between Cannes and Saint-Raphaël in one day while enjoying the splendours of the scenery.
After an interruption during the First World War, construction resumed in the Inter-War Period. The objective was to quickly enlarge the road to meet growing demand.
Unfortunately, with the unexpected outbreak of the Second World War, the Corniche d'Or became the only emergency route the defeated French troops could take to escape Mussolini's army. It was subsequently the border between the forbidden military zones under the Nazi occupation.
When the war ended, the road had suffered serious damage in several areas which were repaired by prisoners of war, but in the '50s a project to enlarge it failed. It has remained unchanged since then and this road with its numerous twists and turns still offers breathtaking views.
THE ANTHEOR COVES AND LE TRAYAS
Located at the foot of the Estérel, about a dozen coves and small sandy beaches are tucked into the wild, rocky coast. The steep, intimate streets of Le Trayas lead to one of the most gorgeous panoramas in the region. Carved out of the rock, the Corniche d'Or connects Saint-Raphaël to Cannes and was opened in 1903 by the "Touring Club of France".
Media