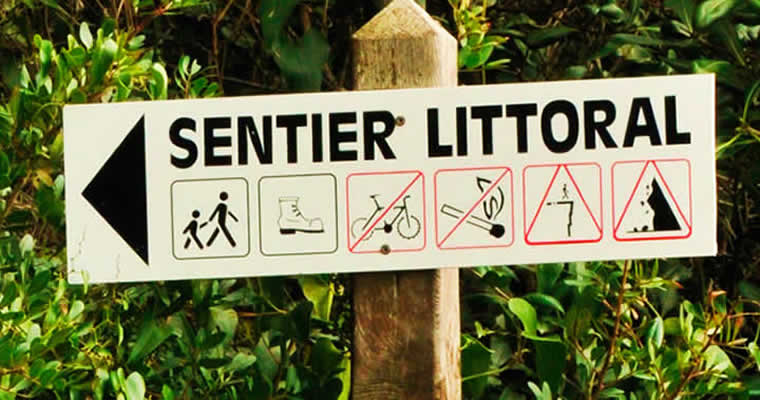 The Estérel coastal path
Starting from Santa Lucia to Agay, the coastal path covers the same itinerary as the one customs officers used to follow. As you walk along, you will discover our pristine coast between rocky coves and sandy beaches.
The Coastal Path
Length :
4.5 hours - 11km (one-way)
Departure point:
Santa Lucia Marina
How to get there :
by car, take the coastal road towards Agay and park in the Santa Lucia marina car park. Go to the boatyard at the eastern-most end of the marina: a wooden sign signals the start of the coastal path.
Itinerary :
Take the path (yellow markings). The path runs between the sea and the beautiful late 19th century villa gardens. After 6km leave Pierre Blave beach and go onto the road for 700m until you reach the Plage du Débarquement beach where you can get back onto the coastal path. The walk ends at Pourrousset beach.
You can return by public transport (bus number 8 or 5 or TER train 03).
Did you know about the remnants of volcanic activity?
If you want to discover signs of the Earth's fury, the Tourist Office recommends 3 stops :
Right after the Santa Lucia port, just after the start of the path, you will see huge "volcanic organ pipes". It is in fact a form of rich quartz lava flow, also called « trachyte ». It actually erupted from the volcano 245 million years ago. This rock formation is also the origin of 2 other local rock formations: 'Les Deux Lions' (Terre and Mer).
Right after the "Aigues Bonne" beach, you will notice 2 black rocks. They are in fact the solidified ashes of a volcano that was still active in the Mesozoic era, that is to say 230 million years ago.
Between the Pierre Blave Point and the "Plage du Débarquement", you will see something amazing: The red rocks are suddenly replaced by a grayish blue type of rock: the esterellite. This "young" volcanic rock, dating back to 30 million years, is the hardest in France. The Romans had already taken note of it ! As far as finding out where the pebbles from the 'Plage du Débarquement' come from, we'll let you guess!...