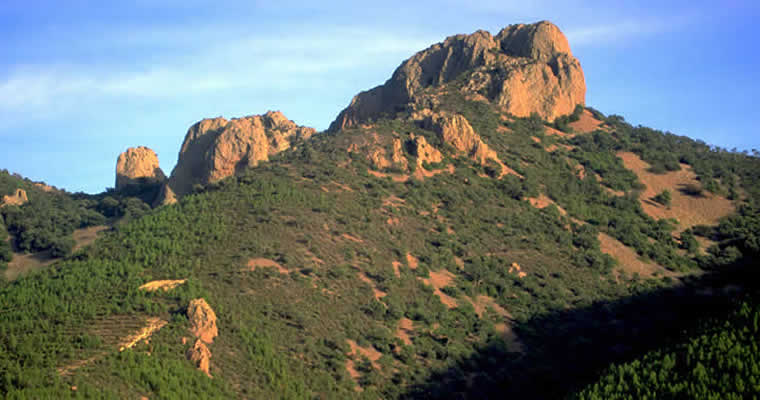 Cap Roux
The red rock face of the Cap Roux is one of the most magnificent sites in the Estérel. From the orientation table at the summit of the rock (454 m) you will be able to admire a panoramic view of the mountains plunging into the sea.
Although the volcanic activity in the Estérel ceased many millenia ago, it is still easy to imagine those primeval fires blazing as the setting sun casts a rosy glow on the Cap Roux.
At the foot of the Cap Roux, on the northern side above the source of the Sainte Baume spring, you will discover another remote place, the Saint Honorat cave.
The history of Saint Honorat
During the 5th century, Honorat, who had lived abroad as a Desert Father for many years, decided to return to his native region with a recommendation letter addressed to Léonce, the Bishop of Fréjus.
Honorat settled in Fréjus and as word spread, people came from far away to listen to him preach. However, he saw his fame as a burden, so he decided to escape and follow his calling for solitude and seclusion. He chose the remote cave of the Cap Roux in the fragrant desert of the Estérel.
However, because he was not left alone even in his cave, he retreated again, this time in the direction of Lerina, a small island he could see from the Cap Roux. This is where he founded the Abbaye de Lérins.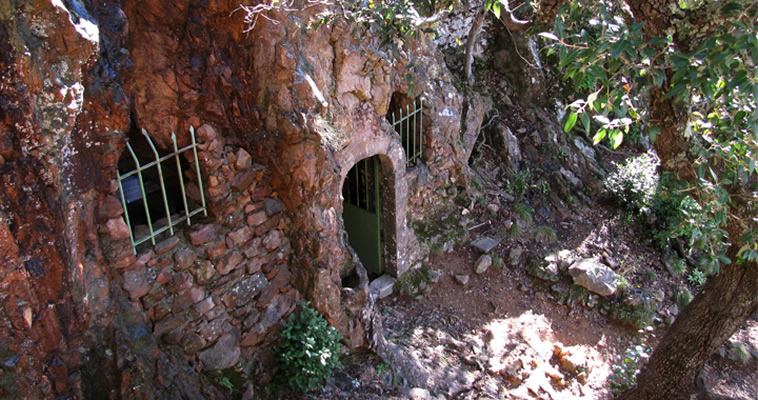 To access: Along the coast, follow directions to Agay. At the roundabout of Agay, follow the "Massif de l'Estérel" signpost. Drive under a small bridge, and past "Zone Artisanale", make a right and follow the road marked "Massif de l'Estérel". Follow the "Col de Notre Dame" signs and stop at the "Col de Notre Dame" car park, cul de sac.