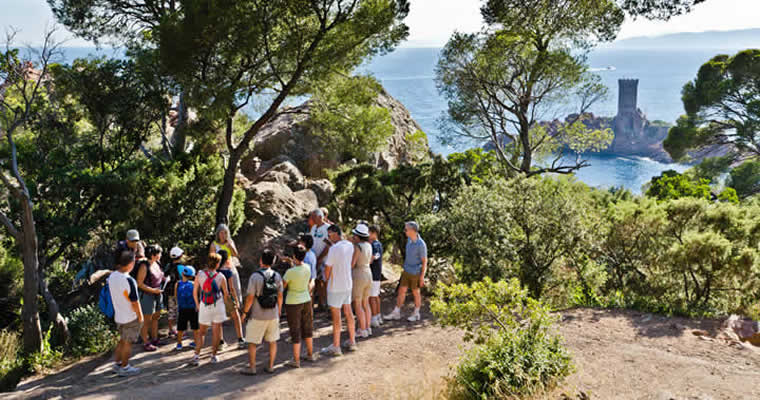 Cap Dramont
Departure point : Camp Long Beach
Duration : 2 hours
Distance : 3.5 km
How to go there :
By car: Take the coastal road towards Agay until you get to the Dramont. Turn right when you see the sign "Tiki Plage" and park in the car park at the end of Allée Robinson.
By bus: Number 8 - Camp Long stop
By train: TER 03 - Le Dramont stop
Itinerary :
Take the small coastal path (yellow markings). The path follows the contour of the rock and comes to an overhang. Continue uphill on the path towards the right as it gets narrower. At the top take the left hand fork. The path runs along the cliff tops with magnificent views of the coast. At the next crossroads turn right onto the path which heads uphill to the tarmac road. Keep heading uphill until you get to the "Sémaphore" (keep it on your right) to enjoy the superb views. Head back down to the crossroads and go along the tarmac road to the right which overlooks the south face of the Cap Dramont.
At the end of the road, before turning right onto the road that leads back to the departure point, you can make a detour to the left and head to the small and picturesque Port du Poussaï.
Be prepared: In summer, in case of extreme heat and mistral wind, the massif can be closed to avoid fire danger. Before you leave, please call 04.98.10.55.41 or go to http://ddaf.cdig-83.org/ to check the weather conditions.