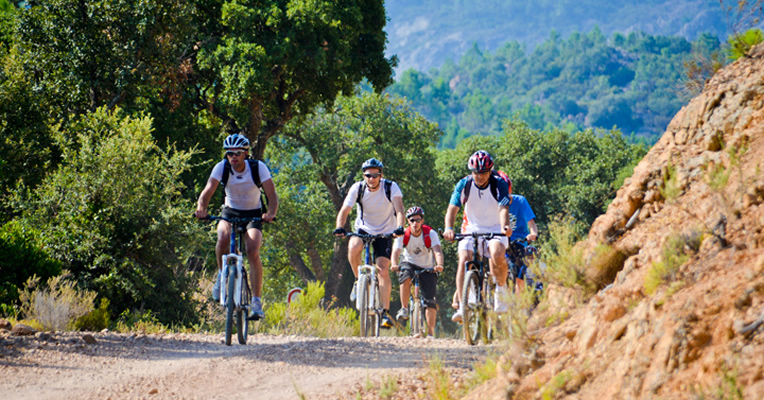 Le lac de l'écureuil
Length : 11,7km
Incline : 250m
Difficulty : Medium
This trail alternates between narrow, rocky trails and tarmacked paths.
How to get there by car from Agay : At the roundabout take the exit towards Saint-Raphaël (inland route), go under the small railway bridge and past the shops (bakery, boat and car repairs…) then turn right onto a small road signposted "Massif de l'Estérel". Follow signs for "Col de Belle Barbe".

Mountain bike departure point : Col de Belle-Barbe car park.
Turn right in the direction of the Lac de l'Ecureuil and go along the Grenouillet river. When you arrive at the ford continue on the left along the "canyon du mal infernet". At the fork take the left hand trail by cycling through the ford. When you get to the lake "Lac de l'Ecureuil" go along the left-hand trail and continue for about 2km until you get to the Baisse de la Grosse Vache crossroads. Take the left-hand trail for 3km until you reach the Col du Mistral. At this point take the trail on the left which leads to the Col de Belle-Barbe.

Be prepared: In summer, in case of extreme heat and mistral wind, the massif can be closed to avoid fire danger. Before you leave, please call 04.98.10.55.41 or go to http://ddaf.cdig-83.org/ to check the weather conditions.